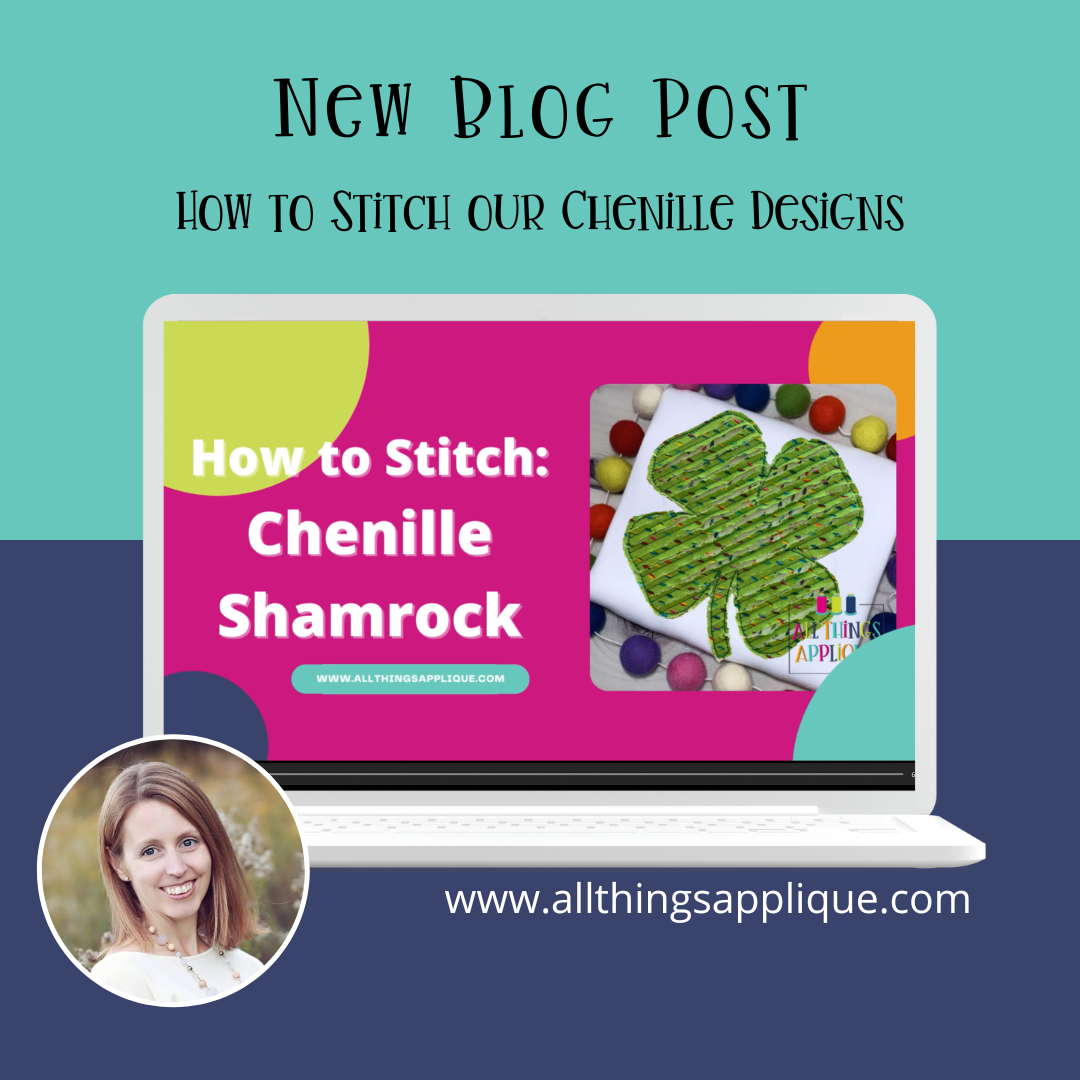 How to Stitch a Chenille Applique Design
I just love a new embroidery technique! There is something fun and exciting about using my embroidery machine to create a new look!

Today we are going to walk through our Chenille technique.  It can look overwhelming but I promise you it is quick and easy!
SUPPLIES
Your favorite Chenille Applique Design
a blank item to stitch on (shirt, hat, dish towel, tote bag, etc.)
3-4 pieces of fabric (quilters cotton works well)
Stabilizer
Applique Scissors
Embroidery Thread
Chenille Cutter (optional: Olfa Chenille Cutter )
Osnaburg Muslin (optional: it frays really well!)
Heat-n-Bond Lite (optional: for bottom layer fabric only)
STEP 1:
After your blank item is hooped and your design is loaded onto your machine, the first step is to stitch the placement line.
STEP 2:
After you have stitched your placement stitch, you want to lay 1 piece of fabric down that covers all of the placement stitch.  Stitch color 2, the tackdown stitch. , but DO NOT TRIM! 
STEP 3:
After the single layer of fabric is tacked down, lay down 2-3 additional layers of fabric on top of the tacked down layer of fabric. 
TIP: In my experience, you don't want the sandwich fabric to be too busy.  I like to use solids or polka dots. But you can experiment and try whatever fabric you like best!
Once you have placed your additional 2-3 layers of fabric on top of your tacked down layer of fabric, you are ready to stitch color 3, which is the chenille rows.  
At this point you are ready to cut in between the chenille rows or channels.  For this cutting I like to remove my hoop from my machine - but DO NOT remove your blank item from your hoop as there is still more stitching to be done!
I first like to cut a loose outline of the top 2-3 layers of fabric to the shape that I am stitching.  For example, when it is time to cut the rows of the shamrock, I like to trim the top 2-3 layers of fabric to the general outline of the shamrock at least on one side of the shamrock. Another tip is to use your scissors to cut a small starting clip in the rows.  This will help the chenille cutter get started.   
Once you have trimmed some of the excess fabric, use your chenille cutter or scissors to cut in between each channel or row.  Be careful to NOT cut through the first layer of fabric that you tacked down in step 1.
STEP 4:
After you have cut through the rows, you need to put your hoop back on your machine and stitch color 4.  This is a bean stitch and will give all layers of fabric a good hold.  Once this step is complete, trim ALL layers of fabric as you would a traditional applique.
STEP 5:
If you want a raggy look, you can stop here and have a raggy edge chenille applique.  If you want a cleaner edge, you can stitch color 5 which is a zig zag stitch.
CONGRATULATIONS!
You have now completed a chenille applique design! Some of our chenille designs are a simple silhouette (shamrock, heart, cross, etc.) and some of our chenille designs have additional steps (ghost, pumpkin, witch hat, etc.).  Be sure to complete ALL steps before removing your item from your hoop!
TIPS & TRICKS:
In order to get the best chenille effect, it can be helpful to snip some of the excess fabric.  Snip the fabric sporadically at an angle perpendicular to the chenille row line.
 When fraying your fabric, spray a little water on the fabric then rough it up either with your finger, or a clean tooth brush, or by throwing it in the dryer for a few minutes.
After you are satisfied with the fray look, use a lint roller to clean up any loose threads.
If you have a design that has stitching on top of the chenille rows, I recommend using a piece of wash away stabilizer.  For example, in this ghost design, the eyes and mouth stitch AFTER the chenille rows are stitched.  After the rows have been stitched, but before you fray the fabric, place a small square of wash away stabilizer over the face area.  Stitch the eyes and mouth.  Then remove the excess stabilizer.
 
I hope this tutorial helped show how easy and fun this design style can be! This technique adds so much depth and interest to your project!

To see all of our Chenille Designs, click here.

To watch a step by step video tutorial stitching our Chenille Shamrock, click here.

Please let me know if you have any questions by contacting me here.

Thanks for reading! Happy Stitching!